The Department of Electrical and Electronics Engineering, MVJCE, organized a SPARK Club Activity on the topic Make Your Own Robo. The event which started at 1:30 pm and concluded at 4:30 pm, was organized on 8th July 2023, at Seminar Hall 4 for the 4th Semester students. 27 students from the EEE department participated in this activity.
The event started with Welcome Address and Guest Introduction. The Chief Guest was Mr. Harish Muniswamaiah, Manager in Robotic Process Automation, Yokogawa, Bengaluru. The phase-1 of displaying components started at 2.00 pm.
Welcome Address and presenting Bouquet to Mr. Harish Muniswamaiah
Phase-1 (Displaying Components)
Components will be displayed to students for one minute.
Students should remember and write the components after one minute.
Selection criteria for qualifying to second round will be number of components remembered and time taken to reproduce it on paper.
Phase-2 (Designing the Circuit)
Students should design the correct circuit diagram by using the components listed by them in 1st round and should present the working of the circuit.
Participants presenting their Algorithm.
Phase-3 (Developing the Algorithm)
Students should develop the algorithm for the circuit and show the output.
Based on their output and questions answered, Winners and Runner Up were selected.
Prize Winners
1
st
prize winners – Mohammed Hashim, Inayath Ulla Khan, Mohammad Maaz and Ajay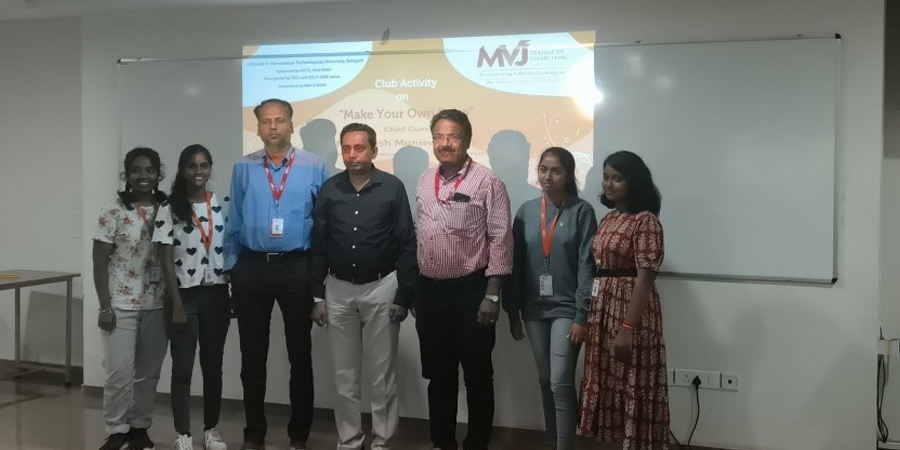 2
nd
prize winners – Bhumika S, Deekshitha L, Thanushree R and Niharika R Thalanki
Outcome of the event:
Club activity empower the student's confidence, thinking level, technical skills and groom them for the college and inter college technical events and include the following.
Develop problem-solving and creative thinking skills in automation.
Practical experience of project management.
Gain practical knowledge on hardware design.