The Department of Electrical and Electronics Engineering, MVJCE, organized a SPARK Club Activity on the topic 'Smart Devices'. The event which started at 1:30 pm and concluded at 4:30 pm, was organized on 16th May 2023, at Seminar Hall 6. The 4th, 6th and 8th Semester students from the EEE department participated in this activity.
The event started with Welcome Address and Guest Introduction. The Chief Guest was Mr. Rathan Gowda, Software Validation and Verification Engineer, Alstom Transport India Ltd., Bangalore. The first Round of the event started at 2.00 pm.
Welcome Address and presenting Bouquet to Mr. Rathan Gowda
Round 1
Each group presented the technical aspects of its innovative work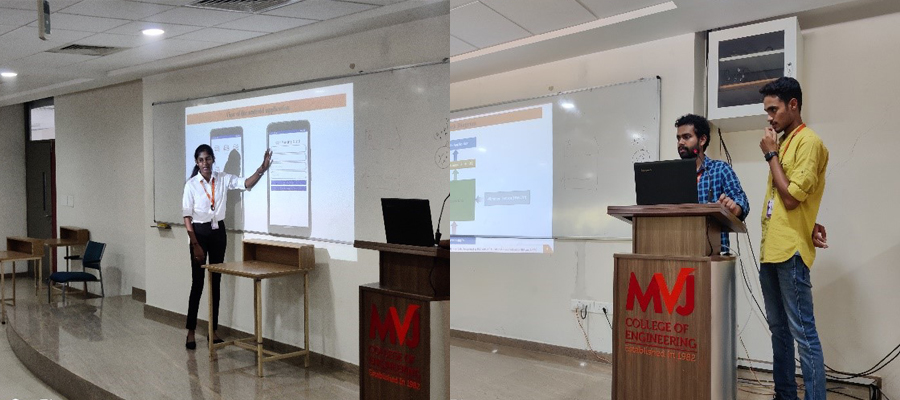 Students presenting the Technical Aspects of their innovative Work
Round 2
After the technical presentation, students had to demonstrate their model.
Based on their presentation, demonstration and innovativeness of their idea, the Winner and Runner-up were selected.
Participants demonstrating their Working Model
PRIZE WINNERS:
1st Prize Winners
– M. R. Rakshitha, Rakshita R. K and Varun. P
2nd Prize Winners
– Gokul Anand, Harsh Vikram Tey, Karan Kuttappa and Nikhil K. V
Outcome of the Event:
This Club Activity enhanced the self-confidence, thinking capacity and technical skills of the students, preparing them for the college and inter-college technical events. It also helped in the following areas:
Developed problem-solving and creative thinking skills in automation
Offered a practical experience of project management
Helped them gain practical knowledge on hardware design
Developed their program writing skills