The Department of Electrical and Electronics Engineering, MVJCE, organized a SPARK Club Activity on the topic 'Technical Writing and Presentation in Cyber Security for Electrical Engineering'. The event was organized for the 4th Semester & 7th Semester students of EEE department, on 9th September 2023 at Lecture Hall 145. The event started at 9:00 adm and concluded at 4:15 pm. A total of 42 students participated in this activity.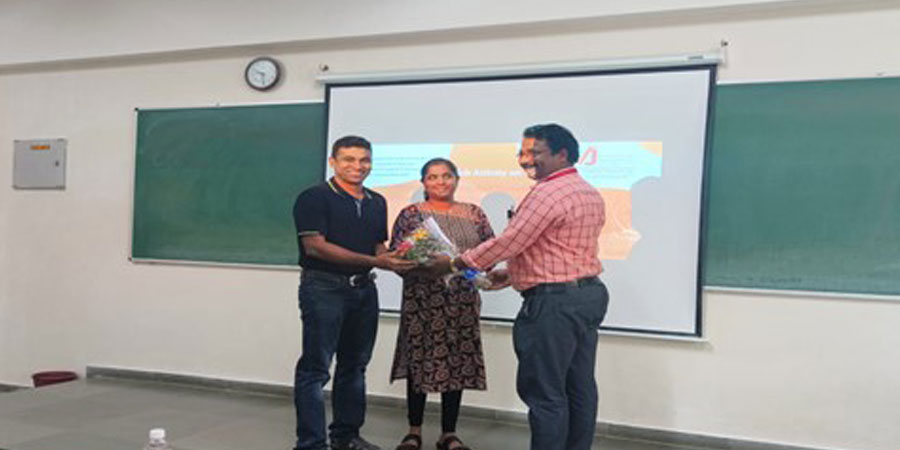 Dr. Rene Dev Presenting Bouquet to Mrs. Elizabeth Mohandoss.
The event started with Welcome Address and Guest Introduction. The Chief Guest was Mrs. Elizabeth Mohandoss, IT Validation Manager, Cytiva, Bengaluru. She was accompanied by her spouse, Mr. Rajesh Karunakaran, Global Director, Aptiv, Bengaluru. The topic for the Technical Writing was introduced to the students during the Phase-I at 9:00 a.m.
Phase-1 (Topic Sharing for Technical Writing)
Topic for the technical writing was shared to the students.
Students should make use of the internet resources and prepare a 2-page report on the given topic.
Each batch of students should prepare a Power Point presentation and present it during the phase 2.
Phase-2 (Presentation)
Students should present their reviews about "Cyber Security in Electrical Engineering" from various sources in the 1st round.
The students must answer to the questions raised by the resource person.
Based on the Report, Presentation and Questions Answered, Winners and Runner Up were selected.
Participant presenting their Reviews.
PRIZE WINNERS: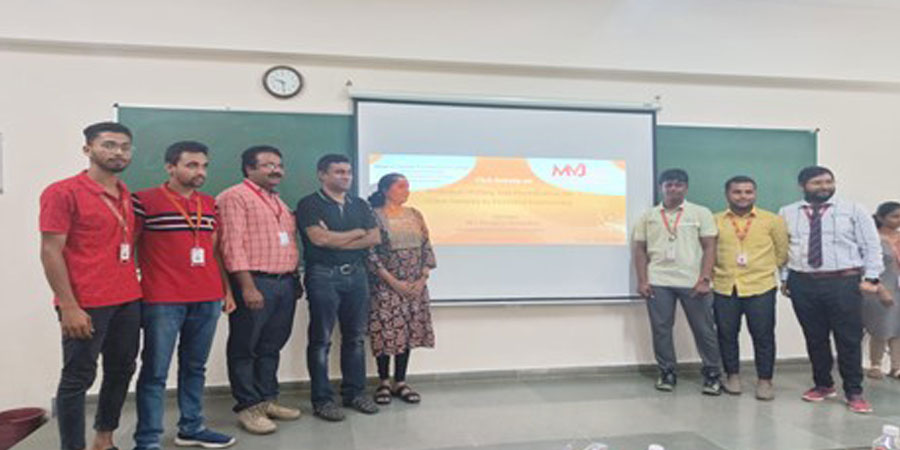 1st Prize Winners – Mohammed Hashim, Inayath Ulla Khan, Mohammad Maaz and Abhinav
OUTCOME OF THE EVENT:
Club activity empowers the student's confidence, level of thinking, technical skills and grooms them to work in a team environment in the industry.
It develops problem-solving and creative thinking skills in the field of Cyber Security in Electrical Engineering.
The Knowledge gained can be applied to smart grid applications in near future.
The skills acquired will be helpful for writing an apt technical report for their academic projects.